West Coast Garage Doors & Automation Frequently Asked Questions
MANUFACTURING AND INSTALLATION OF:
 Meranti and Aluzinc Steel Tip-Up and Sectional Overhead Garage Doors
Automation with battery backup
SECTIONAL OVERHEAD DOOR SPACE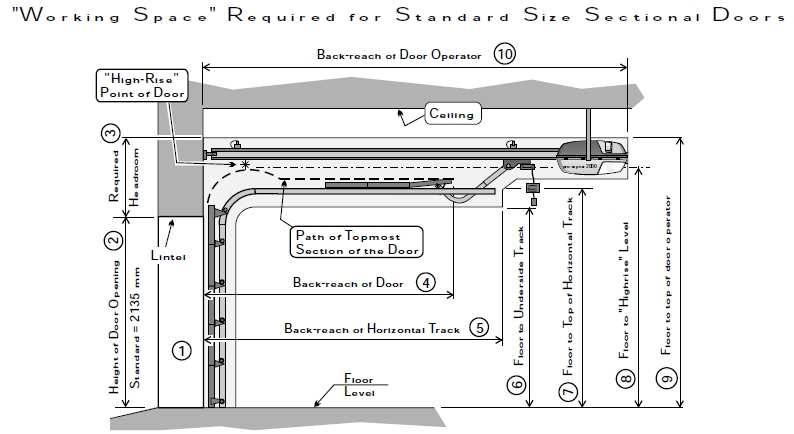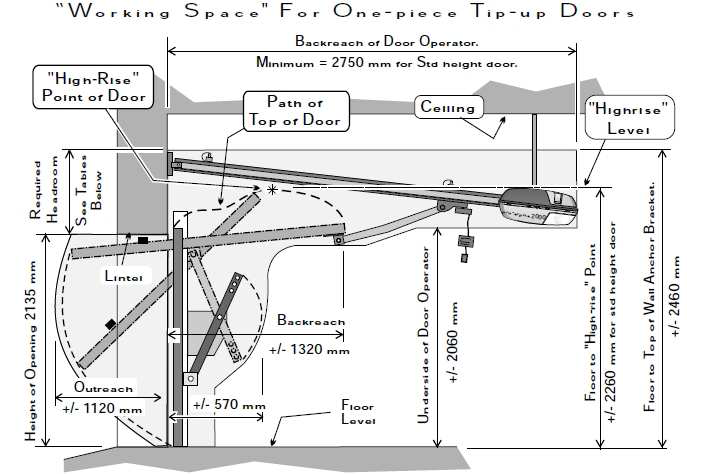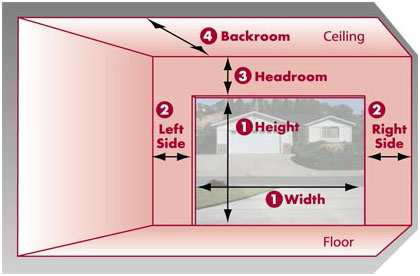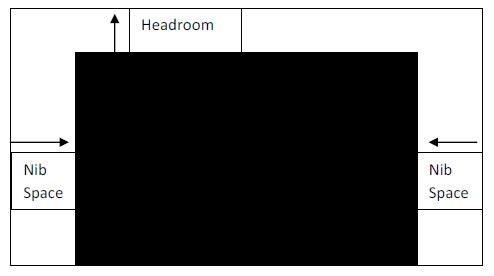 'I am building a new garage; what size should the rough opening for my garage door be?
- SINGLE OPENINGS
2440w x 2130h
2440w x 2500h(Caravan)
- DOUBLE OPENINGS
4880w x 2130h
4880w x 2500h (Caravan)
What is headroom?
Headroom refers to the distance between the top of the door and the lowest point of the ceiling or any
obstruction such as beams, pipes, or ductwork. For Sectional overhead doors a minimum of 350mm
is required and for Tip-up doors 170mm.
What is backroom?Backroom refers to the distance from the garage door to the back wall of the garage. The door height plus 450mm is required for proper door installation. Additional backroom is required for the installation of an automatic garage door opener.
What is sideroom (Nib Space)?
Sideroom (Nib Space) refers to the measurement from each side of the garage door opening, outward to the nearest wall or obstruction within the garage. For Sectional overhead doors allow 150mm on either side of the door for torsion springs installation and 100mm for tention springs. For Tip-up doors allow a minimum of 70mm on either side of the door.
I do not have the necessary amount of headroom. Is there something I can do?
We will be able to provide you with the best possible solution after a site inspection. In some cases we might need "low headroom brackets" (for Sectional overhead doors) or the installation of a fixed header panel.
What if I do not have the required sideroom (Nib space)?
We will be able to provide you with the best possible solution after a site inspection. In some cases we make us of a fixed reveal installation – nib space is created by the use of fixed Meranti fillers. Please keep in mind that the will reduce the overall opening width and that the fillers will be visible from outside.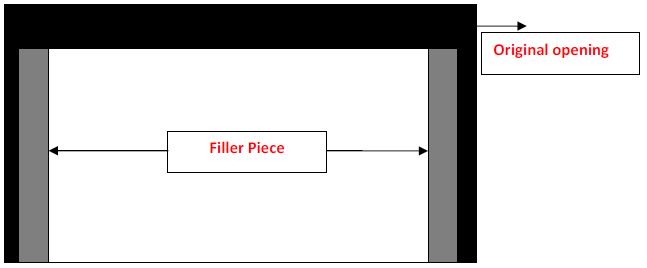 What is a "fixed header piece"?
When there is not enough headroom, a fixed header piece can be installed to create more space for the door to turn.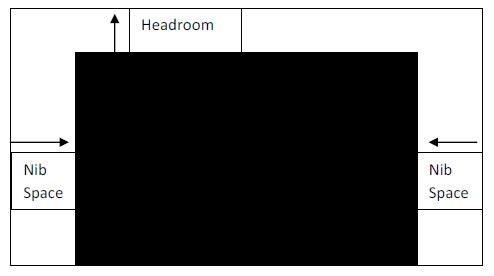 How do I know what size garage door I have or need?
Measure the width of the actual finished opening and then the height. Garage door sizes are always shown and listed as the width first and then the height. In addition, West Coast Garage Doors provide site estimates and will measure the opening for you to determine the proper size. For more information on garage door sizes see our list of standard garage door sizes.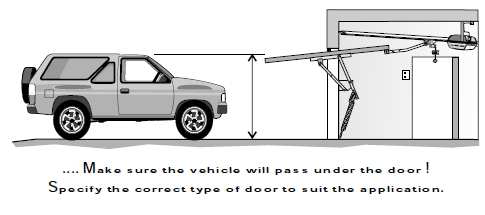 Illustrations of different Openings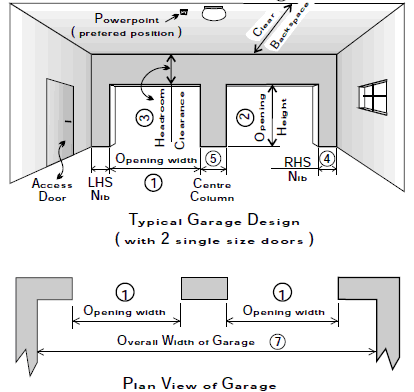 Characteristics: Red Meranti ( Seraya ) has a light coloured sapwood and red-brown to dark red heartwood. The texture is rather course but even, the grain interlocked and wavy. Red meranti weighs an average of 550 Kg / m3 when dried.
Working Qualities: The wood of the various species work well and in general are capable of a good smooth finish. Meranti can be glued, nailed and screwed satisfactorily, and can be stained and
polished well after suitable filling. 
Uses: All the merantis are suited to joinery and general construction, and also for furniture.
Where and How is Meranti used at West Coast Garage Doors and Automation?
There are 4 different types of Meranti tongue and groove slats used at our company:
-Tip-Up Doors:
88mm slat width
12mm slat thickness
NON-Finger Jointed
66mm slat width
12mm slat thickness
Finger Jointed.
-Sectional Overhead Doors:
88mm narrow slat width
130mm broad slat width
16mm slat thickness
NON-Finger Jointed.
What is FINGER-JOINTED slats?
To save costs, Tip-up Meranti slats can be machined to have a cross-cut finger joint. Pieces of
Meranti wood of various lengths are finger jointed to create standard lengths of i.e. 2500mm.
Due to the Meranti colour variation, finger jointed slats can not be colour matched. Finger-Jointed
wood is ONLY used on tip-up doors if solid slats are not available!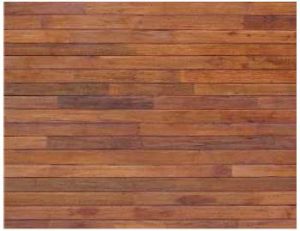 Why would I choose a Meranti garage door?
Since garage doors were first built, garage doors have been made out of wood because they offer the most personalized and decorative options. Wood doors provide security and insulation, but tend to be higher priced due to its individual customization in manufacturing. Wood doors can be stained to match the exact look you desire. The challenge with wood doors is their tendency to expand and contract with changes in temperature. Wood garage doors are an excellent choice when you want the natural, warmth and beauty of wood to match your entry door and home.
How do I paint a Meranti door?
West Coast Garage Doors and Automation manufactured doors have natural wood variations. Wood doors require special finishing prior to installation. To finish, preserve and protect your beautiful Garage Door, panels are treated with SILKWOOD WOOD OIL. For more information visit: www.woodtreatment.co.za
***PLEASE NOTE: If ANY paint, varnish, wax or sealant is
used, the GUARANTEE ON PANELS will be voided***
What patterns do West Coast Garage Doors manufacture and install?
***Horizontal Slat available in narrow 88mm and broad 130mm***
***PLEASE NOTE*** WOODGRAIN FINISH ON ALUZINC DOOR ONLY AVAILABLE ON BLOCK PATTERN DOORS ON REQUEST. HORIZONTAL SLAT PATTERN DOORS ARE ONLY MANUFACTURED AND SUPPLIED WITH THE NEW STUCCO (ORANGE PEEL/SKIN) FINISH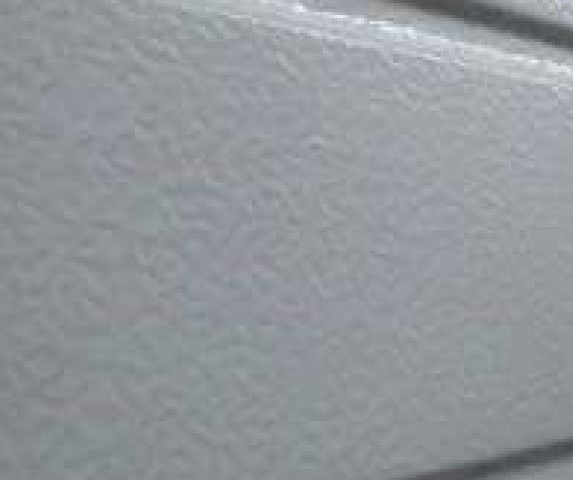 What is ALUZINC?
ALUZINC stands for aluminium and zinc: fused in almost equal proportions, as a coating for the steel sheet that is coated with a unique silvery spangle composed of:
-Aluminium (55%),
-Zinc (43,4%) and
-Silicon (1,6%)
The result is: Steel's strength, Zinc's protection, and Aluminium's stability, forming an extraordinary steel product from start to finish. It has excellent resistance to corrosion as a result of the two main components of metallic coating: viz. aluminum on the surface of the coating, which acts as a barrier to corrosive agents, and zinc to protect the steel with an effect known as Sacrificial Cathodic Protection.
Sacrificial cathodic protection occurs when a metal is coupled to a more reactive (anodic) metal. This connection is referred to as a galvanic couple. In order to effectively transfer corrosion from the metal structure, the anode material must have a large enough natural voltage difference to produce an electrical current flow. If the zinc coating is scratched or otherwise locally damaged and steel is exposed, the surrounding areas of zinc coating form a galvanic cell with the exposed steel and protect it from corrosion. This is a form of localized cathodic protection - the zinc acts as a sacrificial anode. These sheets also present a high resistance to abrasion by its surface hardness and excellent reflective properties of heat and light.
Where and How is Aluzinc used at West Coast Garage Doors?
Aluzinc is extensively used for the manufacture of Tip-Up and Sectional Overhead Garage Doors.
What is the "Woodgrain" (NOW STUCCO) finish that Roos Garage Doors manufactures?
During manufacturing, the smooth Aluzinc steel sheets are rolled through a machine that embosses the panels to give the woodgrain (now STUCCO) finish.

What is the profile of the Aluzinc horizontal slat and block panels used at Roos Garage Doors?
Horizontal Slat: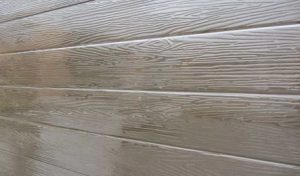 Block: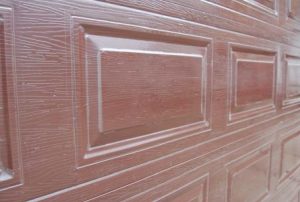 Which colours are available for the Aluzinc range of doors?
-Brown
-White
-Charcoal
-Bronze
"Meranti"
**All other colours are extra cost Powder Coating***
Is touch-up paint available?
Touch-up paint is available for all of our Aluzinc doors.
Why would I choose an Aluzinc steel garage door?
Aluzinc steel garage doors offer strength, security, energy efficiency and the best value. Due to advanced manufacturing, Aluzinc steel garage doors are less costly than other types of garage doors and are offered in a variety of designs and colors to enhance your home's curb appeal. West Coast Garage Doors Aluzinc steel garage doors are pre-painted in a variety of colors, providing homeowners peace of mind protection with 1-year gurantee?
What are the benefits of an Aluzinc steel door versus a Meranti wood door?
Aluzinc steel doors require less maintenance than a Meranti wood door.
I'd like to purchase a Aluzinc steel door, but need a color other than those you offer. Can I
paint the door once it's installed?
Provided that the colour you request is available as an automotive wet spray solution or powder coated solution, we will be able to assist you at an additional cost. It is recommended that the door is painted prior to installation.
What type of care and maintenance is necessary for an Aluzinc Steel door and hardware?
Aluzinc steel doors are pre painted with a factory-applied baked-on coating. West Coast Garage Doors recommends monthly cleaning of the exterior of the door with a common household detergent and warm water. The use of a well-soaked cloth, sponge, brush (with very soft bristles) or low pressure spray washer is recommended. Once the door is washed, thoroughly rinse with clean water to eliminate the possibility of residue. In addition, lubrication of springs, rollers and hinges is recommended on a yearly basis with a high quality lubricant or similar non-silicone based lubricant (e.g. 10W-30 motor oil). Visually inspect springs and cables for wear and binding. Do not attempt to remove, repair or adjust springs. Do not attempt to remove or loosen any red fasteners found in high torsion areas, such as bottom brackets or spring plates. 
What is "oil canning" on Aluzinc Steel doors?
None of the locally manufactured Aluzinc Steel roll formed garage doors will be totally free of a certain degree of waviness – this is referred to as "Oil-Canning". Oil-Canning in flat Aluzinc Steel metal rolls originate in the roll-formed manufacturing process of the door panels and is mostly observed on the horizontal slat pattern door. Oil-Canning is an inherent part of light-gauge cold formed Aluzinc products, particularly products with a broad flat surface area as found on horizontal slat pattern doors. Horizontal slat pattern panel doors are distinguished from corrugated shapes, as the latter are more fluted in design, have narrower flat surfaces and are less likely to exhibit oil canning. Oil-Canning is generally defined as a wave pattern noticed on the broad flat surface of the horizontal slat pattern door panel. The period and the amplitude of the "wave" depend on the continuous width of the flat surface of the panel.
Oil-Canning has a number of causes:
1. Aluzinc Steel Coil: Any residual stresses induced during the coil production can contribute to oil-canning even before door panels have been formed.
2. Fabrication: Due to costs, master coils are slit into smaller coils and this can release and redistribute residual forces – the slit coil's response to manufacturing can create or increase oil-canning.
3. Forming: During manufacturing and roll forming of panels, new stresses can be created which contribute to oil-canning on the finished product. While roll forming the panels, the handling of the Aluzinc sheet will have a tendency to "trap" uneven metal (thickness differences are inherent on coils) contained within the coil sheet length that contribute to oilcanning. By roll forming the sheet and adding the horizontal slat line to the panel, the uneven metal is pushed to the edges which contribute to oil-canning. In conclusion, we confirm that oil-canning is an aesthetic problem and that structural integrity is not affected. There are many uncontrollable factors that contribute to oil canning and no manufacturer can realistically assure the total elimination of oil canning. Certain amounts of oil-canning in the flat surface of door panels can be expected. Any requirement that roll formed Aluzinc steel horizontal slat pattern door panels are totally free of oil canning is unreasonable and not a sufficient reason to reject the material or the door.